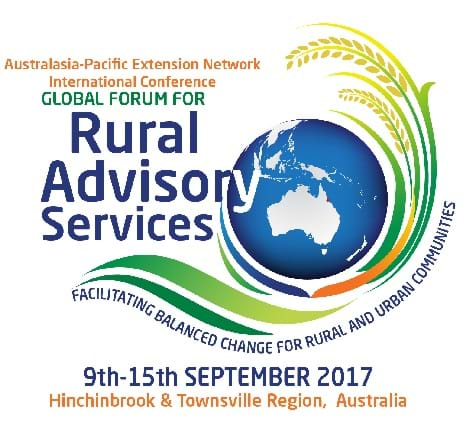 2017 GFRAS APEN International Conference
The Ville Resort-Casino - Sir Leslie Thiess Drive, Townsville, Queensland
12-15 September
Facilitating Balanced Change for Rural and Urban Communities - Profitability & sustainability, land & sea, private & public, farms & communities
[ Copied from conference APEN webpage]
The conference is being held jointly with GFRAS (http://www.g-fras.org/en/) and follows the 2017 GFRAS Annual General meeting to be held in Ingham, North Queensland. The conference is an international meeting for rural advisory practitioners, researchers and academics that combines the best extension research and practice from developing and developed countries.
In North Queensland we have both wet and dry tropical agriculture and a very large marine park that is managed for a range of uses. We will showcase the integration of production and natural resource management extension in the wet and dry tropics that focuses on achieving outcomes that meet the environmental needs of the rainforest and reef as well as the economic and social needs of dryland and irrigated agricultural production in the tropics.